Value Co-creating experience at the 2013 Naples Forum on Service
作成日: 2013.07.10
更新日: 2016.08.02
Report: Value Co-creating experience at the 2013 Naples Forum on Service
June 18 – 21, 2013
Hiro Matsushita, Ph.D. candidate
  What do you imagine when you hear of the word "Ischia"? Fans of old movie might think of Alain Delon's "PLEIN SOLEIL". Those interested in the Roman history would think back on Augustus, the founder of the Roman Empire, ruling from 27 BC until his death in 14 AD since this island once belonged to his governance. For many tourists Ischia would be simply associated with comfortable sunshine, sleepy blue ocean and lovely small houses and historic ruins scattered throughout this island. The 2013 Naples Forum on Service was held in such an island as Ischia, a super beautiful resort in the Tyrrhenian Sea at the northern end of the Gulf of Naples.
 Service dominant logic, network & systems theory and service science. These three concepts could suffice to characterize the 2013 Naples Forum on Service. When professor Jim Kijima first introduced this conference to me I immediately decided to come here. Because I believed that this opportunity would pave the road towards my academic and professional endeavor. Ischia also stimulated my desire to explore the Italian history, particularly the ancient Roman history.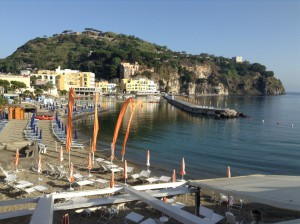 (At the beach of Ischia: View from our hotel)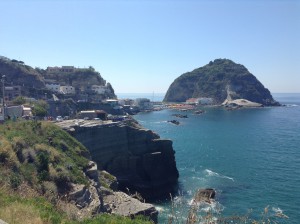 (Sant' Angelo: Another side of Ischia)
 
 Drawing participants from more than forty countries the world over, the conference was organized under the patronage of six institutions including The University of Naples Federico II andUniversity of Salerno and the support of eights private institutions sharing the common goal. In this conference the goal is to overcome geographical constraints of our cultural research environment, to let discussions flow free of any formal, logistic and cultural barrier. Encompassing a broad spectrum of diversified services, topics such as S-D logic, Viable Systems Approach, Service Science, Many-to-Many marketing and other intriguing issues were intensively and extensively addressed in search of common research paths and advances in the related knowledge. The details of conceptual pillars are given in this page.
 The participants came from various countries, however, the largest pie was occupied by the Nordic nations. In particular Finland interestingly stood as the top in terms of the number of registered participants. This might imply that in these countries, where the quality of life is perceived to be relatively higher than those of their counterparts, the service industry is rapidly but steady emerging with the policy implementation which strategically stimulates the service-based innovation in such sectors as health and welfare services, education and information technology to name just a few. Even in traditional manufacturing industries, "servitization" is currently regarded as a strategic option to obtain a set of customer satisfaction and competitive edge.
 In parallel with those societal and managerial movements to date, the researchers would benefit from attending the conference and positioning themselves to bridge the micro, meso and macro systems spheres to better address the required innovation in services.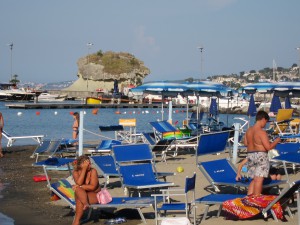 ( Beach paradise: Just a two-minute walk from the conference)
  With professor Jim Kijima, Timo Rintamaki (right in the below photo) from Tampere University Finland, a former visiting researcher at Kijima laboratory presented their research work "Exploring mobile value creation in retail experience" considering the channel roles in different stages of the shopping experiences in Finland, USA and Japan. Also with Timo Rintamaki and Lasse Mitronen, professor Kijima made his dedicated presentation on "Value Orchestration Platform: Model and Strategy" and shared the notion that the community service system in the damaged areas should become a value-orchestration platform involving politicians, bureaucrats, physicians and medical staff, local people, and volunteers to resolve the problems. I shared my discussion on "Value-in-context of Healthcare: What human factors differentiate value of nursing services?" with Professor Kijima by combining the competency theory primarily cultivated in USA and my research conducted in a prominent university hospital. Fortunately I enjoyed many comments and questions from the floor.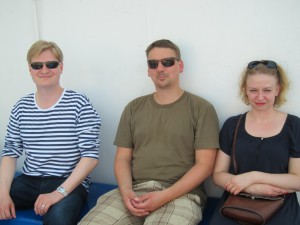 (Timo and his friends on a ferry boat from Naples to Ischia)
  It is evident that Kiijma laboratory is uniquely positioned in co-creating value in its cross-cultural and transdisciplinary research networks. My interests in services lie in issues of healthcare, human resources development and systems thinking. As such I found that the dialogues and chats with the researchers and practitioners with diverse backgrounds were full of intellectual outlet.
 This conference shared critical research and conceptual papers in various topic tracks. Those involved; service innovation, service systems, value co-creation, service design, value proposition and value in use, experience, market and marketing, service industrialization, service systems and service thinking and business models. To access the presented proceedings please click here.
 
 After sharing tons of ideas, findings, and methodologies at the conference, professor Kijima and I came back to Naples on a boat. In hustle and bustle of the downtown Naples we came across with a humble but nice pizzeria at one of the thousands of narrow and complicated side streets. Different from would-be-pizzerias managed by chain store mechanism easily found in Tokyo, this pizzeria has been ran by a native Naples family. Surprisingly they burn seasoned wood in their stylish cooking stove to bake their awesome pizza. That was really something. Observing our tenacious curiosity on the things, the family was kind enough to invite us to their tressure and took a photo together for us. How friendly they were!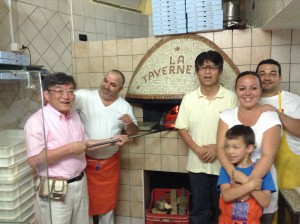 (At a pizzeria in Naples: Value co-creation?)
 
Consequently to the very last minute value has been co-created in services both academically and practically during our stay at Ischia and Naples. Special thanks go to professor Jim Kijima for sharing those wonderful opportunities with me!