トップ > 国際連携ç "究 > A Report of the 20th Annual Frontiers in Service Conference, June 30 – July 3, 2011, Columbus, Ohio, USA
A Report of the 20th Annual Frontiers in Service Conference, June 30 – July 3, 2011, Columbus, Ohio, USA
作成日: 2011.07.26
更新日: 2012.12.06
A Report of the 20th Annual
Frontiers in Service Conference, June 30 – July 3, 2011, Columbus, Ohio, USA
 
Taku
Kato
Phd
Candidate 
 
It was
very honorable for me to have an opportunity for making a presentation
regarding my current research which had been academically advised by Professor Kijima
in the 20th Annual Frontiers in Service Conference. Considered to be the world's leading annual conference on service research
and drawing attendees from 38 countries, the conference was hosted by the
Initiative for Managing Services at the Fisher College of Business, Ohio
State University, USA, between June 30 and July 3 in 2011. It took
about an hour by plane from Chicago to get to Port Columbus International
Airport, from where about 20-minutes-drive took us to Ohio State University.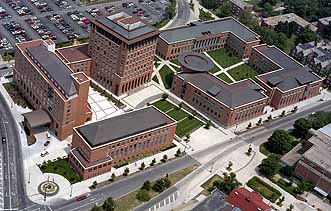 Fisher College of Business is
located at the northern entrance of The Ohio State University's main campus.
The 370,000 square-foot complex is the largest multi-building project ever
undertaken by the university and one of the few fully integrated management education
campuses in USA. Fisher's campus features a state-of-the-art computer network,
satellite uplink capabilities, video-on-demand, and nearly 3000 computer ports.
The $120 million project includes five academic buildings and a separately
funded hotel, the Blackwell Inn, where we stayed during the conference.
 
Concurrent and plenary sessions were held all day July 1 and 2, concluding July
3 morning with plenary sessions. The conference opened with a reception June 30
evening and featured a special networking event and the awards dinner every
night.
 Our
presentation was scheduled in Session 6, final of the first day, at 202 room of
Pfahl Hall between 16:00 and 16:25 on July 1. The title was "Geographic
Expansion or Diversification: Analysis of Growth Strategies for Japanese Food
Service Industry".
 
The purpose of our research for this
presentation was to clarify relationship between growth strategies for the food
service industry and the economic performances by analyzing 40 Japanese food
service companies listed in Japan.
While
I tried to complete the material, Professor Kijima kindly took his time for discussion
and rehearsal for the presentation until just before our presentation. Thanks
to his advice the material had been improved dramatically, for which I
appreciate very much.
 
Because
9 other presentations were being made at the same time and many of attendants
seemed to prepare for the party at the night, the number of audience was much smaller
than we initially thought. However I was happily able to receive some comments
and advices for data processing.

This was my first opportunity in my
life to present in the international academic conference. I could meet some other researchers
in the world and found it sincerely necessary to share ideas internationally. Though
it is hard to say my presentation was perfect, I thought that I should find
more chances in the future to express our own opinions or ideas in this type of
conference.
This time I had some regrets. Actually,
it seemed that I had been spending so much energy for preparation that I had a
fever just after finishing my presentation, and so, it was hard for me to
attend to the latter half of the conference enough. If I could have
opportunities to attend to the conference in the future, I would like to be
tough and enjoy making presentations.
When we came back to Narita at 13:45 on
July 4th, we were surprised with the hotness and wetness in Japan. I
am deeply grateful to Professor Kijima for his help and kindness.